ABC Is THE Concrete Cutting, Drilling And Coring Contractor Davidson County Trusts
ABC Concrete is the practical solution for Davidson County's concrete problems.
Call for a price estimate today.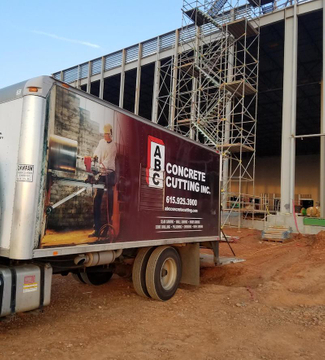 ABC Concrete Cutting in Davidson County is a team of experienced professionals with industry leading equipment ready to meet your needs in the Asphalt, Block, Brick, or Concrete demolition work. Extensive tooling and experienced operators help deliver projects efficiently and on time. We strive to deliver quality at an affordable price. Safety plays a key role in how we execute your job.
Contact ABC Concrete Cutting, Inc in Davidson County today to let us help you complete your job.
Tom White 615-925-3900 | tom@abcconcretecutting.com
Main Offices: Nashville, Tennessee and Lebanon, Tennessee
Office Hours: Monday - Friday 7:30am - 5pm
Available 24 hours in case of emergency
ABC Concrete Cutting has been proudly servicing the Davidson County and Central Tennessee market since 2017. Tom and his team is poised to help solve your concrete problems. We work with contractors, construction managers, property owners and DIY homeowners. Tom comes with over 30 years of concrete cutting experience and has innovative and practical solutions for you project.
If you have a need for concrete cutting or drilling, give us a call to get a price for your new construction or remodeling needs. As a concrete cutting contractor in Tennessee, our desire is to grow and build relationships while maintaining our present customer's needs. If you have not used us in the past, we have experience working in sensitive areas like medical facilities, educational buildings, industrial complexes and commercial structures. We would love an opportunity to make you a fan of ABC Concrete Cutting. We are locate in Lebanon, Tennessee but we will travel to your site as long as it is within a few hours travel. Our trucks are equipped to complete several different cutting tasks from slab sawing, track sawing, wall sawing, coring and drilling. Our concrete cutters are experienced and trained to operate their equipment safely.
If you would like to get a quote or schedule work, please call Tom White at 615-925-3900. If you would like to email, he can be reached at tom@abcconcretecutting.com.
Let us be your favorite concrete cutter company to call!
If you are searching for concrete cutting near me or concrete cutting contractors near me, Ohio Concrete Sawing and Drilling, Michigan Concrete Sawing and Drilling, ABC Concrete Cutting are the right choice to complete all levels of concrete demolition. Each of our divisions has lists or areas we serve and we will travel outside those areas per the customer request. When searching for asphalt cutting or concrete coring near me, be sure to consider us an option to achieve your project goals. Even if we are not the closest concrete cutter nearest to you, we more than likely have concrete cutters living in your area. We can quickly get to your project and service you safely and swiftly. We look forward to hearing from you and serving your concrete cutting needs. Contact us today & check out the list of areas we serve below!
We serve the following Tennessee cities in Davidson County:
Nashville

Franklin

Murfreesboro

Springfield

Gallatin

Lebanon

Clarksville

Cookeville

Smyrna La

Vergne

Hendersonville

Goodlettsville

Brentwood

Mt Juliet

Madison

Cooksville

Hermitage

Springhill
In Addition to Davidson County, We Serve the Following Counties:
Cheathem

Montgomery

Sumner

Robertson

Macon

Wilson

Trousdale

Smith

Rutherford

Cannon

Warren

Williamson

Dickson

Dekalb
Best Concrete Cutting, Drilling and Removal Service Near Me
Fill out the form below for an estimate
If additional information is required, our local salesman will contact you. In many cases, a site visit is required in order to provide an accurate job estimate. If you have prints or pictures please email sales@abcconcretecutting.com.