Job Opportunities
Apply today if you want a new career in Construction!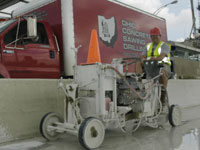 Careers at ABC Concrete
ABC Concrete Cutting of Nashville was founded in 2017. We offer a variety of services including sawing, drilling, coring, grinding, polishing, and a wide variety of specialty services.
Located in Middle Tennessee serving the Greater Nashville area. Learn more about ABC Concrete >
ABC Concrete Cutting, Inc Offer:
Company Supplied Vehicle
Paid Vacations
401K Retirement Plan
Six Paid Holidays
Profit Sharing Plan
Opportunity to Advance
Performance Bonuses
High Level of Independence
Safety Bonuses
Good Compensation
An ideal applicant has these attributes:
Good Driving Record: No D.U.I. - 4 points maximum.
Positive Attitude: Do you usually have a smile?
Mechanical Skills: Have you done some work on your own car or motorcycle? ABC Concrete Cutting, Inc doesn't require expert mechanics, but you should be comfortable with tools.
Neat Appearance: Do you take pride in your own appearance? Do you keep your car clean?
Drug Free: Applicants must pass a drug test.
Hard Worker: Do you get personal satisfaction out of hard work and completion of assignments?
Independent: Are you comfortable working on your own without close supervision?
Competitive: When you were in school did you participate in athletics? (Football, Wrestling)?
Does this describe you or someone you know?
Most employees of ABC Concrete Cutting of Nashville, Inc will make more than $40,000.00 in their first year and fully trained operators often earn in excess of $50,000.00 annually.
ABC Concrete Cutting, Inc offers starting pay up to $18.00/hour. Apply today to join our team.
accepting applications
If you are interested in a career with us, please fill out the form below with your resume.