Concrete Breaking and Removal
We have the right tools to remove and dispose of all concrete and asphalt.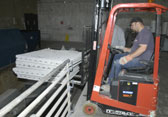 Concrete weighs around 150 pounds per cubic foot with steel included. Concrete removal either by cutting or breaking is a dirty job and due to new silica regulations, a more difficult one. In order to safely move pieces of concrete, it usually requires powerful equipment to cut, break, and move. Our ability to remove large pieces, typically reduces cutting costs.
Whether it's demolishing buildings, concrete foundations, highways, streets, parking areas, or driveways, we have the expertise and equipment to get the job done efficiently and safely. With our state-of-the-art tools and commitment to safety, you can trust ABC Concrete Cutting to handle any concrete demolition project.
Along with concrete sawing and drilling, ABC Concrete Cutting, Inc began removing concrete years ago. When working in interior spaces or occupied spaces, the careful and almost surgical approach is the best. We can complete a traditional saw and remove with all electric tools. If you need a less intrusive demolition method, the DXR robot with its "muncher" crushes the concrete without the vibration of the saw. Its strong jaws, breaks concrete into small pieces so it can be removed by hand. When speaking with our sales teams be sure to share your concerns so that we can solve them and get you an accurate price.
Removal of a 35 foot tank utilizing our demolition robot. Combination of hammer and concrete crusher.
Featured Project: Concrete Removal 129' Tall Smoke Stack
Location: The Breakers Hotel, West Palm Beach, Florida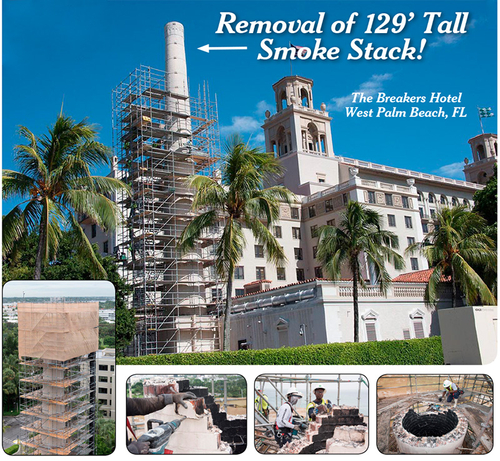 ABC Concrete Cutting Inc. was contracted by The Weitz Company to remove a smoke stack which was part of the original construction of the Breakers Hotel built in 1929 when the boilers were powered by coal. The smoke stack structure was 129' tall, 16' at the base and 10' at the top, and was made of concrete and brick.
The demolition project took a little less than two months to complete while in the midst of hurricane season.
A wind meter was installed at the top of the scaffold to monitor wind strength. If winds reached above 50 miles an hour the project was shut down. If they reached over 80 miles an hour the scaffold would have to be disassembled....fortunately, the winds never got above 50 miles per hour during the operation.
The steel bands were the tricky part! ABC Concrete Cutting installed ratchet straps above and below each steel band prior to cutting them, not knowing whether or not the wall would come apart and collapse the structure after cutting the bands. This was especially critical due to the fact an adjacent building was in use during the entire process.
Call today with your concrete problem!